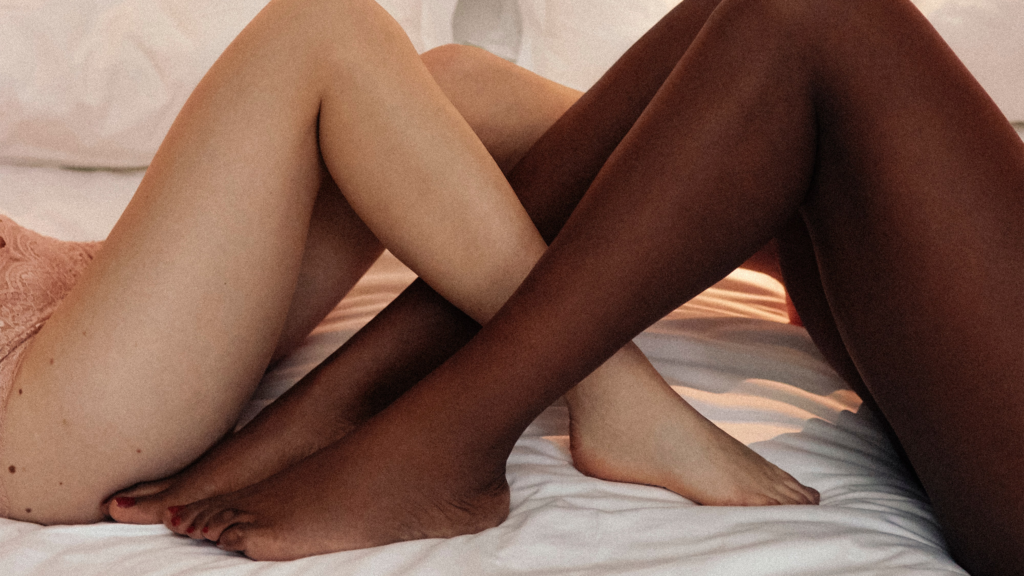 There are actually four types of pain associated with sex and vaginas: superficial, deep, primary and secondary dyspareunia. Here's the lowdown on what could be making you sore after sex.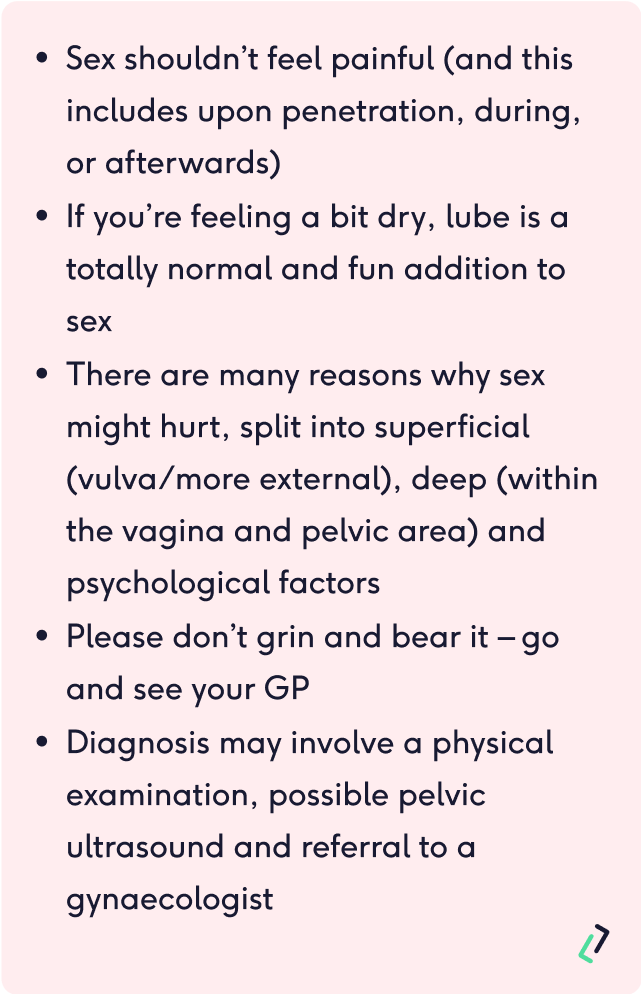 Painful sex (dyspareunia) is way more common than you might think, affecting up to 75% of women at some point in their lives. Unsurprisingly, studies show that experiencing painful sex can be associated with
poor sexual, relationial, physical and mental health
. We're about to take a closer look at what some of the causes of this super important (but much overlooked) issue are, when to seek medical advice and treatment approaches.
Is painful sex normal? 
Nope, it's not. Sex should not be uncomfortable. 
And, because painful sex could have such a broad range of underlying causes it's important that you pay attention to any symptoms of pain or discomfort. 
Medically speaking, the official definition of painful sex (dyspareunia) is when there's recurrent or persistent pain before or after intercourse. But, the bottom line is, any sensation of pain is a sign that your body is telling you something is wrong and should not be ignored. Please don't worry about checking in with your GP if it's a pretty new symptom for you. 
Where exactly is painful sex felt?
Anatomy 101: so the vulva refers to the entirety of the external genitals including the inner and outer labia, clitoris, vestibule of the vagina (vaginal opening) and urethra (where pee comes out). Painful sex can be associated with the vulva, vagina, pelvic area and lower back. Depending on where the pain is felt, this can provide a clue to the diagnostic approach as well as treatment options. 
Types of pain
There's a few classifications of painful sex:
Superficial: Localised to vulva or vaginal entrance

Deep: Inside the vagina or lower pelvis, often associated with deep penetration

Primary dyspareunia:  pain during sex since the start of sexual activity

Secondary dyspareunia: pain occurs after some time of pain-free sex
You might also hear the term vulvodynia which can be associated with painful sex. However, the key difference is that this refers to vulval pain that can be triggered with or without sex (with no known cause). 
BTW, give lube some love  
If you aren't fully aroused when you attempt to have sex it can be painful. This is normal, and may be due to too little foreplay. Using lube to reduce friction can make sex more fun and comfortable! 
Superficial causes of painful sex
These tend to be associated with the vulva and we're going to explore the more common causes here: 
Skin conditions
Irritant or allergic Contact Dermatitis

can lead to itching and pain during sex, triggered by chemicals or allergens in products used for the skin. In some individuals' chemicals cause an immune response leading to itching and redness. Common products that can trigger include baby wipes, lubricants and feminine hygiene products, topical medications and latex in condoms. 

Lichen Sclerosus

is a condition which can cause itchy white patches on the vulva that can result in a burning sensation, tightness and scarring that leads to painful sex

Sperm allergy

is a

rare

allergic reaction causing redness and burning in the vaginal area, typically 10-30 minutes after sex. This can be triggered at any point, from any sexual partner.
Medication
The contraceptive pill

can also be associated with

vaginal dryness

and therefore painful sex.

Progestogen-only pills

(minipill) and other forms of progestogen only contraception are thought to cause vaginal dryness in some users because they do not contain oestrogen, the hormone responsible for blood flow to the vagina and pelvic area, particularly during arousal. This in turn affects vaginal lubrication and can cause painful sex. However vaginal dryness has also been reported by users of combined contraception.

Some studies suggest antidepressants can lead to persistent vulva pain and lubrication problems
Psychosexual
Vaginismus

is an involuntary tightening of the vaginal muscles which can cause difficulty and pain with penetration. This can be caused by stress around sexual contact, sometimes due to past experiences or bad relationships.
Infections
The extremely common fungal infection

thrush

could cause painful sex, with other symptoms including the characteristic cottage cheese-like discharge and

itching

STIs

(for example chlamydia, gonorrhea and herpes)…another reason to keep on top of regular testing

Pelvic Inflammatory Disease (PID)

is caused by infection and can lead to a deep pain due to inflammation of the pelvic organs. Untreated STIs are one of the most common causes of PID
Deep pain and discomfort during sex
This kind of pain inside the vagina or within the pelvis could suggest a couple of different conditions.
Ovarian Cysts

are fluid filled sacs within the ovaries, which often cause no symptoms and are completely harmless. However, in some cases they can rupture, which can be extremely painful and requires immediate medical attention. Ovarian cysts maycause pain during sex on the side of the affected ovary. 

Endometriosis

is a condition where tissue similar to the lining of the womb starts to grow in other parts of the body, and can cause mild to excruciating pain up to 48 hours after sex. The reason for this is inflammation and endometrial tissue that has grown behind in the pelvis, the uterus and vagina being stretched and pulled during sex. 
Should I go to see my GP? 
Yes. 100%. Pain during or after sex is not a symptom that should have to be endured. If you're experiencing superficial pain, it's likely that you would have a physical examination. Depending on the cause, treatment could involve antibiotics for an infection or steroid creams for skin irritation. If the root is a psychological one, this could involve therapy or counselling. 
For pelvic pain / internal deep pain, your GP would probably refer you to a gynaecologist and arrange an ultrasound scan which can detect possible causes such as ovarian cysts.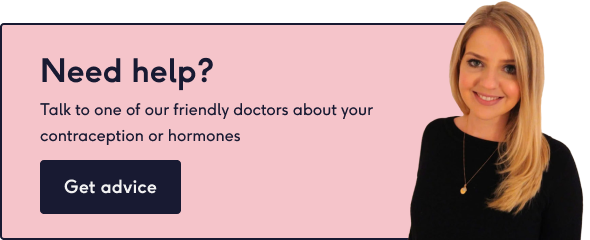 Emma is a Pharmacology & Physiology graduate with a huge passion for women's health. Outside of work you'll find her with a nose in a book, open water swimming or charging around with her standard poodle Zeki!