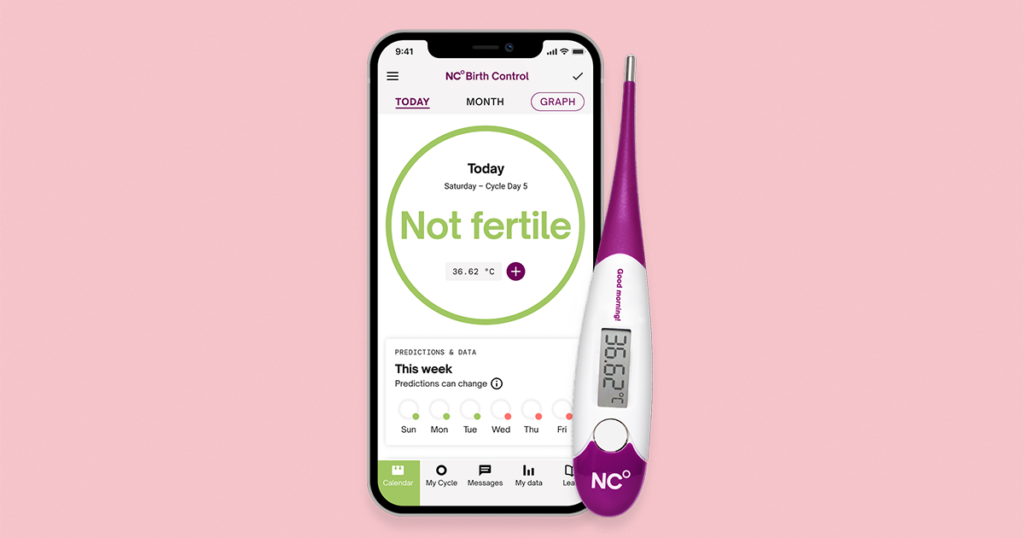 A non-hormonal, technological approach to contraception. Get the lowdown on the Natural Cycles app to see if this form of digital contraception could work for you.
20 years ago the idea of being able to have everything you could ever need on one smart device in your pocket was pretty mind-blowing. And now, this includes your contraception.
The Natural Cycles app is a downloadable form of digital contraception derived from the symptothermal method, which falls under the umbrella of fertility awareness methods (FAM). Fertility awareness or natural family planning means learning to identify when you are fertile and then avoiding sex or using condoms during that window, to prevent pregnancy.
What is the Natural Cycles app?
Natural Cycles, which is CE marked in Europe and FDA cleared in the US, is powered by an algorithm that analyses your temperature (measured using a thermometer) and menstrual cycle data to calculate when you are fertile – advising you to use other protection such as condoms, or avoid sex on fertile days. To make the app easy and simple to use, days where it is safe to have unprotected sex appear as 'green days', whereas 'red days' warn you that you are likely to be fertile and therefore may fall pregnant if you have unprotected sex.
This form of contraception could be classified as a method of natural family planning, with a modern update. Natural Cycles falls under 'digital contraception', using intuitive algorithms to predict your cycle and make it easier for you to get clued up on what's going on inside your body. All you have to do is open the app and your logged data is stored for you – leaving less room for error (and less manual work) in comparison to traditional FAM.
How does Natural Cycles work?
The Natural Cycles algorithm identifies when you ovulate and thereby calculates your red and green days. It does this by analysing:
Your temperature data (throughout the

menstrual cycle

your temperature rises and falls slightly, which is due to the change in the body's hormone levels)

Your menstrual cycle length (taking fluctuations and cycle irregularities into account)

Your optional luteinising hormone (LH) test results (LH level surges just before you ovulate). An LH test, or ovulation test, is done with a urine test strip, which you can buy at your local pharmacy or through the Natural Cycles app.
How long does Natural Cycles take to work?
Whilst the app will predict your fertile and non-fertile windows immediately, you may get more red days until the algorithm has gotten to know your unique cycle. The number of green days will increase as the algorithm gets to know your cycle, which usually takes 1-3 cycles. On red days, you will need to use protection such as condoms, or abstain from sex altogether.
Natural Cycles effectiveness
Natural Cycles has been shown to be 93% effective with typical use, and 98% effective with perfect use (perfect use means not having unprotected sex on red days, and if using condoms using these consistently and correctly). This rate has been shown by four separate peer reviewed clinical studies (linked in our references section below). This effectiveness rating is also determined by the company's ongoing monitoring of effectiveness rates that they are required to do as an FDA (US Food & Drug administration) cleared medical device.
When comparing Natural Cycles to the clinical effectiveness of other contraceptives with perfect use, it is less effective than long-term methods such as the implant, IUDs and sterilisation, but potentially more effective than barrier methods such as female condoms, the diaphragm and cap.
In comparison to The Lowdown's most popular contraceptives, the combined pill is 99.7% effective with perfect use, and the hormonal coil (IUS) is 99.8% effective. With typical use the combined pill is around 92% effective, which is similar to Natural Cycles.
Of course, the big attraction of Natural Cycles for lots of people is that it is a non-hormonal method. So, let's compare it to other non hormonal contraceptives; with perfect use, the copper coil (IUD) and ballerine IUB methods are both 99.4% effective. A benefit of these methods, especially when compared to Natural Cycles, is that they are long lasting, and you don't have to remember to use them every day.
Other methods of non-hormonal contraception include the vasectomy (99.9% effective with perfect use) and female sterilisation (99.5% effective with perfect use). These methods are considered permanent (occasionally vasectomies can be reversed), so are not an option for someone who would wish to conceive in the future.
How well does Natural Cycles work as contraception?
Most of the stats above relate to perfect use – meaning when contraception is always used correctly as it was intended, for example, taking your pill at the same time each day. We tend to favour looking at typical use, as it factors in how contraceptives will be used in the real world. For example, not taking your pill on time, or having your repeat injection slightly late. 
Natural Cycle's typical use effectiveness rating is on par with the both combined and mini pills, the patch and the vaginal ring (all 92-93%). With all of these methods, it is down to the user to make sure they are being as efficient and effective as possible. Whether that's knowing what counts as a missed pill, when to change the patch or how to properly insert a vaginal ring. With Natural Cycles, you must abstain from sex on red days if you want to use the app perfectly, or if using condoms on red days make sure you use these consistently and correctly.
If you are using condoms on red fertile days you are relying on the effectiveness of condoms for your contraception. There are a few things that can stop a condom from working. The most common thing is that the condom breaks, splits or slips off during sex. It may also not be effective if its used with oil based products, medication for things like thrush, stored in intense heat or cold, or past its use by date. If these things happen, you use a condom incorrectly, or you don't use a condom on red days, you should consider emergency contraception.
Studies have shown unintended pregnancies do occur whilst using Natural Cycles, but these results match up with the published effectiveness rates mentioned above, and it is important to remember no contraceptive method is 100% effective.  
How to get started with Natural Cycles
Natural Cycles is really easy to use and can be set up in three simple steps:
Measure – begin by measuring your temperature at roughly the same time every morning, it's advised that this is done at least five out of seven days of the week (otherwise it will result in more red days)

Enter your data – enter your temperature into the app.You can also log period data, your emotions, sex drive and physical symptoms to help the algorithm predict how your body reacts to your different

cycle stages

Determine your fertility status – the algorithm in the app is able to confirm your ovulation to determine your fertile 'window,' letting you know if you are on a 'red' or 'green' day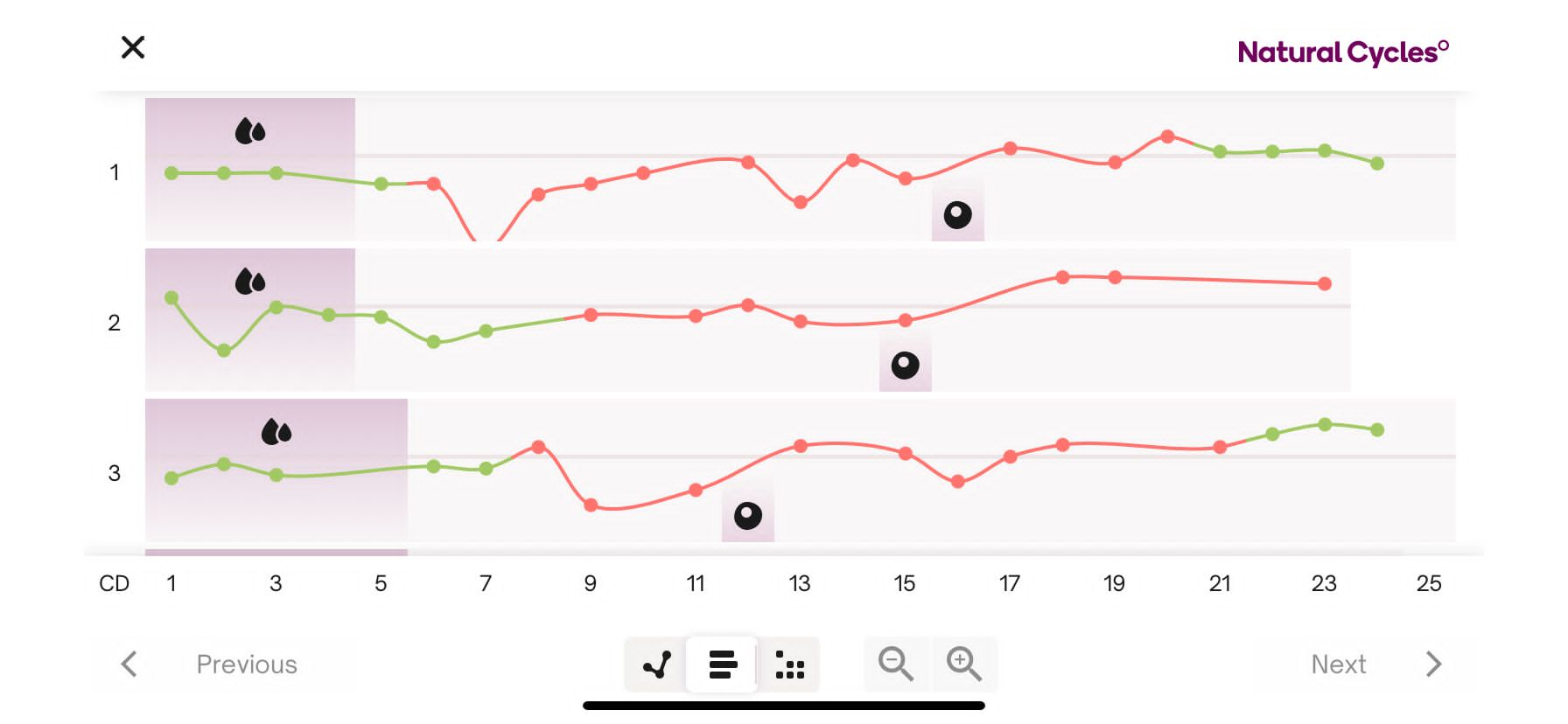 The Natural Cycles thermometer
The Natural Cycles thermometer isn't a typical thermometer as it is highly specific – it's called a basal thermometer. It will measure your basal body temperature (your lowest resting body temperature) within two decimal places, which is required to confirm ovulation. The thermometer is used in the morning when you wake up to let you know whether it's a green day (not fertile) or a red day (fertile).
You can purchase the Natural Cycles basal thermometer for £10 directly from their website, and it should arrive within 1-3 business days. Lowdown readers can receive 20% off an annual Natural Cycles subscription AND a free thermometer using this link!*
*FYI – this is an affiliate link, which means The Lowdown will earn a commission on any purchases made.
Natural Cycles and the Oura Ring
Natural Cycles have now partnered with ŌURA, makers of the Oura Ring; a smart ring connected to an app showing your health insights, such as heart rate and sleep quality. Essentially just like a smart watch. The Oura Ring works by syncing temperature trend data straight from the ring to your Natural Cycles app, allowing you to track your temperature automatically whilst sleeping, rather than manually taking your temperature with the basal thermometer when you wake up.
The temperature sensors in the Oura Ring generate 1,440 data points each day, and are validated to measure temperature changes as precisely as 0.13°C. In addition to this temperature trend data, the Natural Cycles algorithm uses heart rate data from the Oura Ring to take into account nights with elevated heart rates (which can raise body temperature) that may be due to lifestyle changes that aren't due to menstrual cycle changes, such as consuming more alcohol.
Natural Cycles pros and cons
Advantages of Natural Cycles
It's a form of 'natural planning' contraception that allows you to better understand your cycle

If you want to get pregnant then you are already aware of your most fertile 'window' which can help you to conceive more easily

It is a non-hormonal contraception method and therefore does not have the potential side effects associated with hormonal contraception
Disadvantages of Natural Cycles
You may want to use extra protection as the app gets to know your unique cycle

While you can use Natural Cycles if you have an irregular cycle, you may experience more red days

You may forget to take your temperature, which will result in more red days 

There is a subscription fee, as opposed to alternative contraception methods available in the UK which are free on the NHS
Who should use Natural Cycles?
You must be over 18 years old

People unable to use other types of contraception due to medical conditions

Those wanting a form of contraception that doesn't affect their periods

Those that are able to (and will remember to) take their temperature every morning

Those happy to abstain from sex or use other forms of contraception on red days
Who shouldn't use it?
People constantly traveling to different time zones or who have an irregular sleeping pattern

People who want a method that will stop or lighten their periods

Those that don't want a form of contraception that needs to be used daily

Those wanting the most (almost 100%) effective protection against pregnancy

Those wanting a form of contraception that also offers protection from sexually transmitted infections (STIs).
Click here to take the Natural Cycles quiz and see if their temperature app is the right method for you.
How to stop using Natural Cycles
To stop using the app, all you need to do is stop recording your periods and temperatures. Theoretically, Natural Cycles should have no side effects. Check out the Lowdown's reviews to see what others have experienced.
Where can I get the Natural Cycles app?
You can start using Natural Cycles as contraception by purchasing a monthly or annual subscription through the app (downloaded via the App Store or Google Play). An annual subscription includes a two decimal basal thermometer, which you will need in order to use Natural Cycles; but if you happen to have a decimal basal thermometer lying about then you can get started straight away!
If not, whilst waiting for the thermometer to arrive, you can try using Natural Cycles in demo mode to have a play around and get a feel for the app. Before getting started, be sure to read the user manual, which contains all the information you will need to get the most out of Natural Cycles.
How much does Natural Cycles cost?
An annual membership for Natural Cycles costs £59.99 with a thermometer included, or £8.99 per month with a £10 cost for the thermometer.
Lowdown readers can receive 20% off an annual Natural Cycles subscription AND a free thermometer via the link below!
Claim your Natural Cycles discount here.* 
*FYI – This is an affiliate link.
Can you get Natural Cycles on the NHS?
Currently you're unable to get the Natural Cycles app on the NHS.
App alternatives to Natural Cycles
While there are loads of period trackers on the market, it's important to note that Natural Cycles is the only app intended to be used as contraception in both Europe (CE Marked) and the US (FDA Cleared). 
Natural Cycles vs. Flo
Working in a similar way to Natural Cycles, you can use Flo to track your menstrual cycle and fertile window, and even log what contraception method you use – this will change the app's predictions as some hormonal contraceptives will stop you ovulating. Flo Premium costs £8.99 a month, while Natural Cycles costs £6.99 a month. There is a free version of Flo, with limited access to features.
Natural Cycles vs. Clue
Much like Flo, Clue is also a period tracking app. Clue's tracker allows you to track emotions, physical symptoms and has the option to track your pregnancy too. This year Clue will be launching an FDA cleared birth control app.
Natural Cycles vs. Daysy
Daysy is a German-made fertility app, rather than a birth control app. It works in the same way as Natural Cycles, but Daysy has a flat fee of €289 vs. a monthly subscription.
Natural Cycles reviews
Thousands of women have shared their contraceptive experiences on The Lowdown. If you would like to see how our reviewers have found Natural Cycles, take a look at our reviews.
Not sure if Natural Cycles is right for you? Check out our guides to other non-hormonal contraceptives such as the copper coil (IUD) or try our contraception recommender tool.

Georgia is our resident content know-it-all. Having worked across editorial, social, PR and comms roles for the last four years, Georgia will be leading us in growing our online presence and creating exciting content across our digital channels. She also hates writing bios. To see more of Georgia's work, check out her website portfolio.