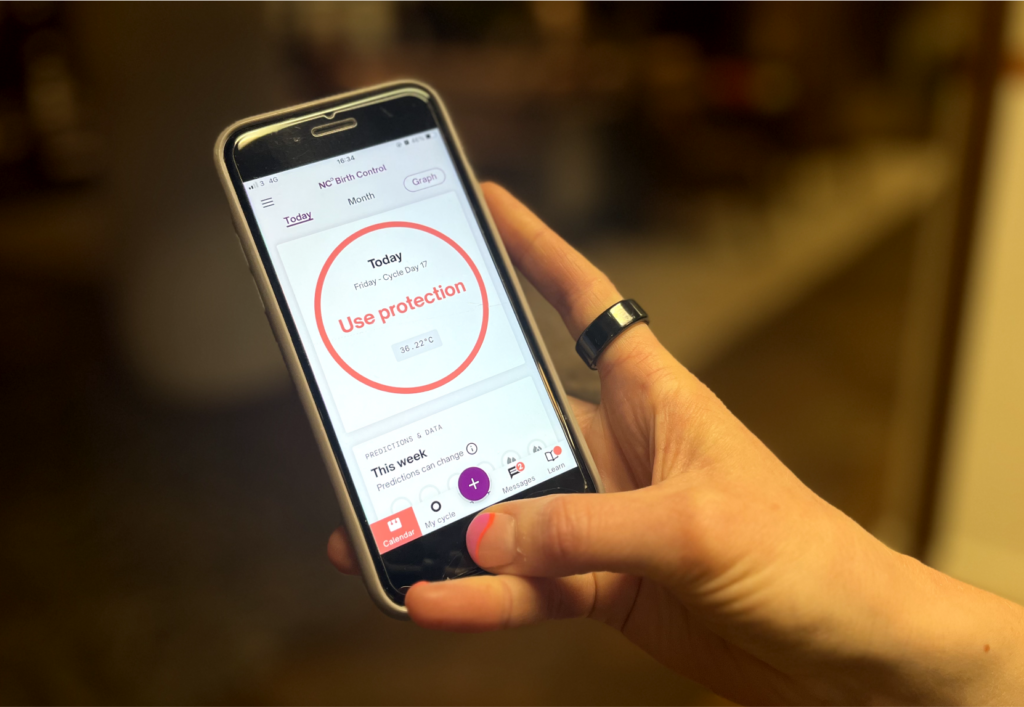 In a world first, digital contraceptive Natural Cycles have partnered with smart ring maker Oura, to make it much easier to track your fertility using your temperature. 
The team at Natural Cycles very kindly gifted me a free Oura Ring and have spent the last few months taking it for a spin. Here's my honest review…
How do you use Natural Cycles and the Oura Ring?
Instead of having to measure your temperature every day by putting Natural Cycle's digital thermometer in your mouth, your Oura Ring is able to measure it automatically every night whilst you sleep – and this is linked to and recorded in the Natural Cycles app.
The Natural Cycles app then uses their algorithm (which combines your period and cycle data with the temperature readings) to predict your daily fertility status. If you're using it as a contraceptive, it will tell you in the app which days are 'green' (not fertile) or 'red' (use protection). Natural Cycles is a hormone free digital contraceptive that is FDA Cleared and CE Marked. 
Remind me why body temperature is important?
After you ovulate, your basal body (resting) temperature rises due to hormonal changes – basically, the amount of progestogen in your body increases as you head towards your period. 
The Natural Cycles algorithm uses this temperature rise (combined with optional ovulation tests) to detect and predict ovulation. If you want to prevent pregnancy, you don't have sex or use condoms in the six days before you ovulate (your fertile window). It's six days because the algorithm accounts for the day of ovulation, plus the days leading up to it that sperm can survive within the female body.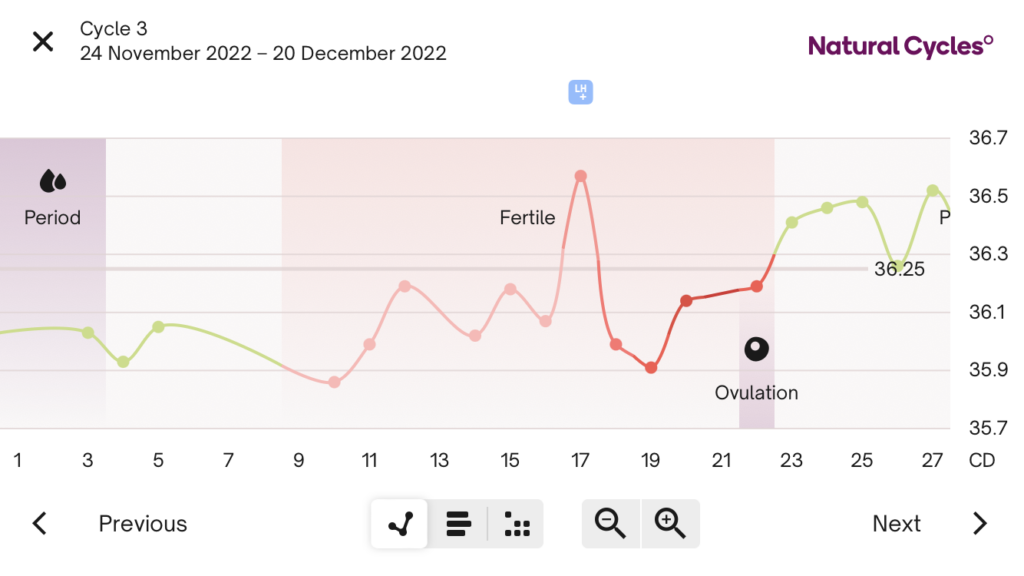 How effective is Natural Cycles with Oura Ring? 
There is no change to the effectiveness of Natural Cycles when you're using the Oura Ring – Natural Cycles is still 93% effective with typical use and 98% effective with perfect use. The table from our blog on contraceptive effectiveness shows how Natural Cycles compares with other contraceptive methods.
| Contraceptive method | Typical use | Perfect use |
| --- | --- | --- |
| Implant | 0.05% | 0.05% |
| Male vasectomy | 0.15% | 0.10% |
| Hormonal IUD | 0.20% | 0.20% |
| Female sterilisation | 0.50% | 0.50% |
| Copper IUD | 0.80% | 0.60% |
| Copper Ballerine IUB | 0.80% | 0.60% |
| Injection | 3.00% | 0.30% |
| Natural cycles | 7.00% | 2.00% |
| Combined hormonal contraception (pill, patch, ring) | 9.00% | 0.30% |
| Progestogen-only pill ('mini pill') | 9.00% | <1.00% |
| Male condom | 18.00% | 2.00% |
| Diaphragm | 16.00% | 6.00% |
| Female condom | 21.00% | 5.00% |
| Fertility Awareness Method (FAM) | 22.00% | 0.40% |
| Withdrawal method (Pull out method) | 29.00% | 18.00% |
| No contraception | 85.00% | 85.00% |
You can read our more detailed analysis of the app's effectiveness and what we mean by 'typical' and 'perfect' use in our guide to how Natural Cycles works.
FYI Natural Cycles had to get FDA Clearance again to use the Oura Ring, so it's been through lots of testing and they conducted their own clinical study to show that it's safe and just as effective, and doesn't impact the way their algorithm works. 
How much does Natural Cycles and the Oura Ring cost?
Here's the rub. You must purchase the Oura Ring and subscription separate from your Natural Cycles subscription:
You need a Natural Cycles subscription

which currently costs £8.99 per month (if you subscribe monthly) or £59.99 for the year. (

FYI Lowdown users get 15% off this here or by using the code LOWDOWN15)
You need the Oura Ring

which

costs around £250 ($299). While Natural Cycles users do receive around a £33 ($40) discount on the ring, keep in mind that you'll be charged in U.S. dollars if you're located in the UK and will be responsible for VAT and customs upon delivery (which cost me an extra £50)

Finally, you must have an active Oura membership

  – which costs around £6 ($6.99) per a month after their free trial. 
So basically it's around £300 upfront to deliver the ring, along with two subscriptions coming to around £130 per year. 
It's pretty spenny, but if you see that you could be using this method for let's say 5 years, that works out as a cost of £930 for 5 years, £16 per month and around 50p per day. Which, if you're using it as contraception, is much cheaper than a baby.
I've spoken with the Natural Cycles team and they have said they are 'developing new, more affordable hardware – as well as integrating with other third party options'. So this is just the first step in making this whole temperature checking thing a lot easier. 
How accurate is the Oura Ring at measuring temperature trends?
To predict ovulation, you need an accurate temperature reading to the tenth degree. Oura proudly states that they can measure changes as precisely as 0.13°C (0.234°F), accurate to within 0.36°C (0.648°F); 'this matches with research-grade tools at more than 99% under lab conditions, and 92% under real world conditions.' Basically, it's super accurate.
How often do you need to charge the Oura Ring?
The Oura Ring comes with this little black disk that has a USB-C charging cable attached. A fully charged Oura Ring will last up to seven days, but this depends how much you use it. Like my old Fitbit, I find myself recharging it around every 5 days.

Can I shower and swim with my Oura Ring?
Yep, thankfully – otherwise it would be a pain to take it on and off to wash your hands. It's water resistant up to 100 meters. You can do pretty much anything in it, except playing Netball as they don't let me wear jewelry – which is a bit annoying as I miss all those precious activity steps! 
For Natural Cycles to work, do I need to wear my Oura Ring all the time?
You don't have to wear the ring all the time – you can only wear the ring overnight if you want to, and that also makes the battery last even longer! Fun fact: The Oura Ring emits a little red light when you're asleep. 
What else does the Oura Ring do? Is it worth the money?
Whilst the UI of the Oura app isn't as intuitive as my partner's more intense Garmin setup, it seems to do all the usual stuff. Oura was originally designed as a sleep tracker (length, stages) but you can also track your activity (steps, heart rate variability, workouts) and menstrual cycle in there (however I do that in my Natural Cycles app because I'm #loyal).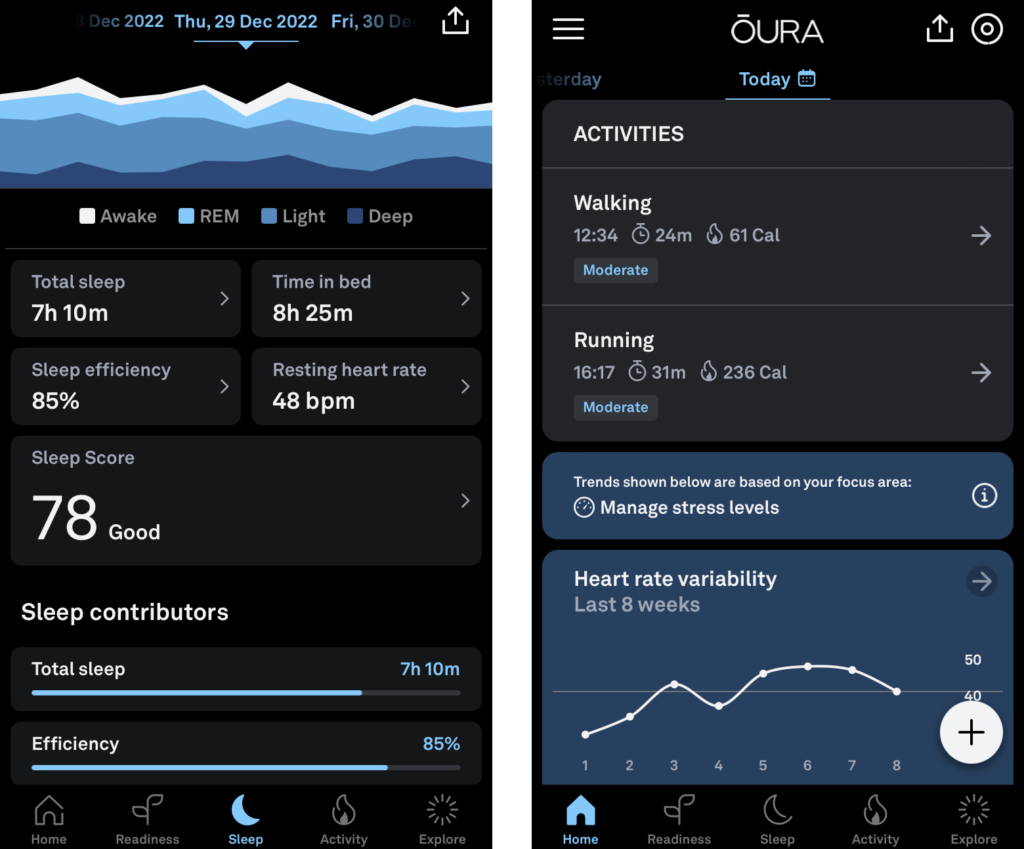 Where can I find out more info about Natural Cycles?
As The Lowdown we have lots of resources on Natural Cycles and every contraceptive method:
Read real life reviews from people who've tried Natural Cycles
Read more on how Natural Cycles works
Read our complete guide to Natural Cycles 
Alice is our Founder who set up The Lowdown in 2019 with a mission to help transform the minefield that is  contraception. She's spent the last five years talking to thousands of women about this problem – and leads on the delivery of our product, brand and overall proposition.