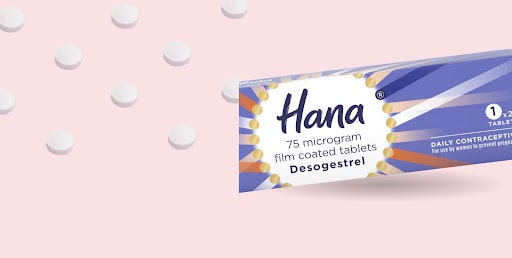 What's the lowdown?
Hana is the first contraceptive pill to be available to buy at a pharmacy over the counter and without a prescription. 

It's a Desogestrel-based mini-pill

(progestogen-only pill) that you take daily to prevent pregnancy. 

You can get Hana on the NHS if prescribed or alternatively purchase it over the counter or from online pharmacies such as The Lowdown

The Lowdown has 3, 6 and 12-month rolling subscriptions of Hana starting at £24.
Lowdown reviewers have reported irregular bleeding as one of the main side effects of Hana. That said, after about 12 months of use, around half of users of progestogen-only pills like Hana have reported infrequent or no periods at all. You can always chat with our doctors if you need advice on your contraception choice. We're here to help!
How much does the Hana contraceptive pill cost?
The price of Hana can vary from pharmacy to pharmacy but it starts from as little as £6 a month from the Lowdown with a 12-month supply.
We offer 3, 6 and 12 months subscriptions at The Lowdown pharmacy. 12-month subscriptions are perfect for those who are happy with their pill of choice and want to be set for the whole year. You can also cancel at any time before the week your subscription is due to renew.
Cost of the Hana pill
Here's the Lowdown on prices of Hana if getting from the NHS to The Lowdown:
NHS –

The price of Hana with the NHS is free of charge, as are all contraceptives when prescribed.

Over the counter (Boots)

– For 3 months of Hana it will cost £19.75

Superdrug

– At Superdrug online pharmacy, it is £19.5 for three months supply.

The Lowdown

– Get your contraception sorted with The Lowdown for 3, 6 or 12 months. A yearly subscription would cost you £72 upfront which ends up as £6 a month. If opting for a 3-month rolling subscription, this would be £24 (£8 a month) and if you're looking for a middle ground, our 6-month option is £42 (£7 a month).

Doctor Fox

– 3 months available for as little as £16.80.
How to buy the Hana pill
You can get the Hana pill from your GP, online or over the counter. You can buy it directly from the Hana website, your local pharmacy, Boots, Superdrug or from an online pharmacy such as The Lowdown.
Since you can buy Hana from a pharmacy without needing a prescription, all you'll need to do is confirm some medical details to check that it's safe for you to take. If you order online, you'll need to fill a very short form in.
How to subscribe to Hana
We offer the option to buy a subscription to Hana and other contraceptives at The Lowdown.
All you need to do is fill out the short form and we'll take it from there! With the option of next-day delivery, you don't even need to leave your house to receive your pill in time.
You can opt for 3, 6 or 12 months and we'll send you your chosen supply in one go, and send you a reminder a week before your supply runs out to let you know we'll be sending your next lot ASAP.
If you're not sure about signing up for a subscription, we also have the option to order a one-off prescription too.
If you have any questions or concerns about your pill, you are more than welcome to get in touch and chat with our team about your subscription and any side effects you may be experiencing. You can also cancel your subscription at any time.
Start your subscription with The Lowdown today.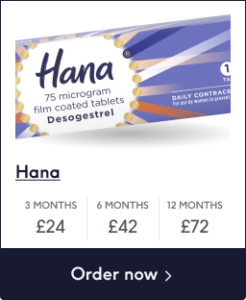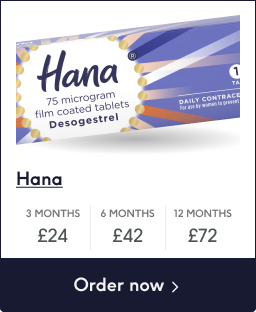 Dani handles all things community and customer support here at The Lowdown. With a background in travel, dating and food writing, she is keen to empower and support our community by being your lowdown big sister. You may recognise Dani from our Wired photoshoot and social media